Pollen AM unique solution
Meeting the versatile market needs : from standard thermoplastics to metal alloys & technical ceramics
Pollen AM is a company specialized in the development and distribution of unique industrial additive manufacturing equipment on the market, the 3D Pam printers.
PAM (Pellet Additive Manufacturing) technology is truly open to materials and allows the use of universal materials: pellets.
Pollen AM Solution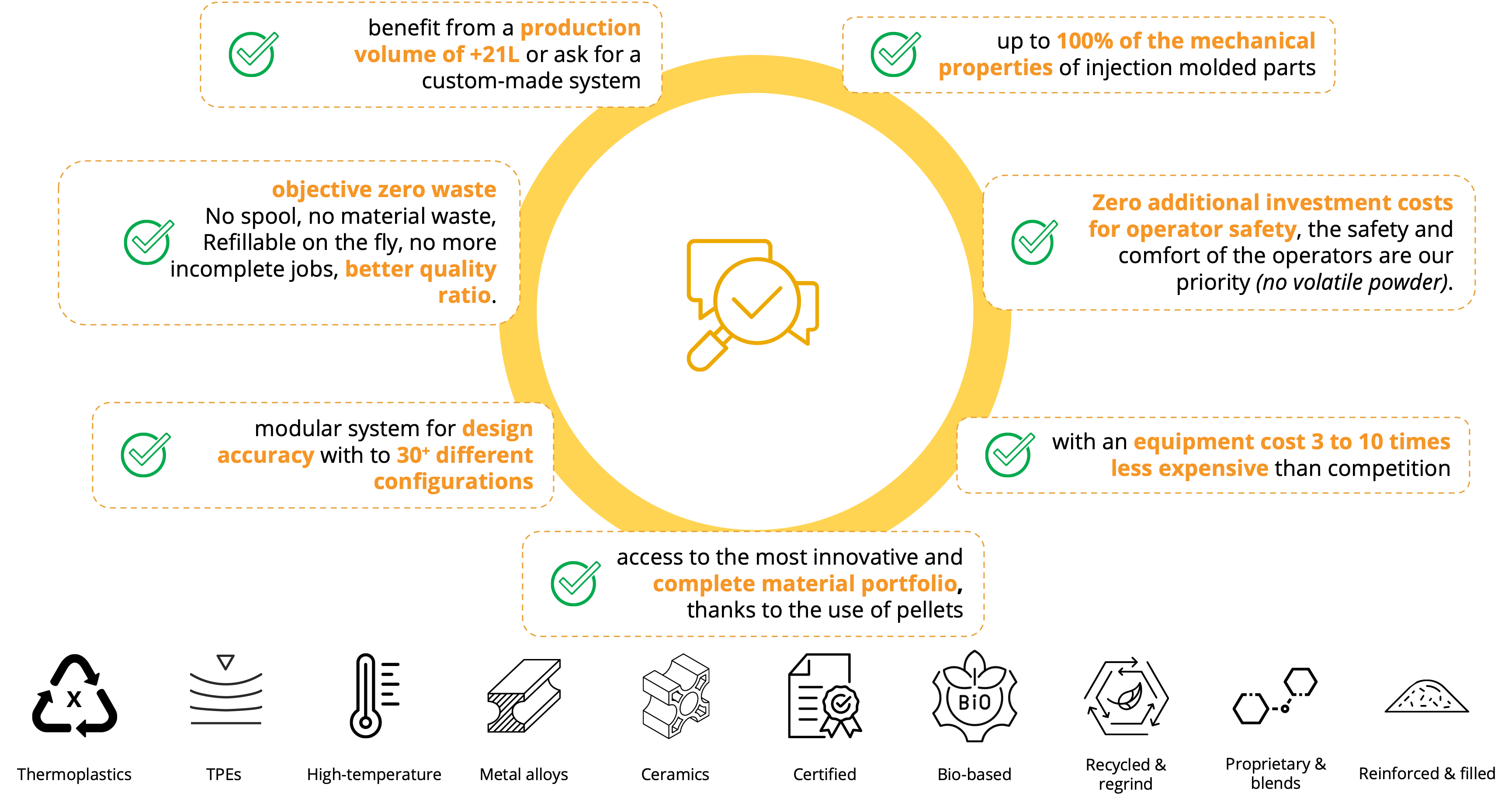 This raw material format is the industry standard and has several advantages: diversity, high availability, low cost, ease of storage and transportation, etc.
The entire injection molding industry uses pellets materials for the production of final parts.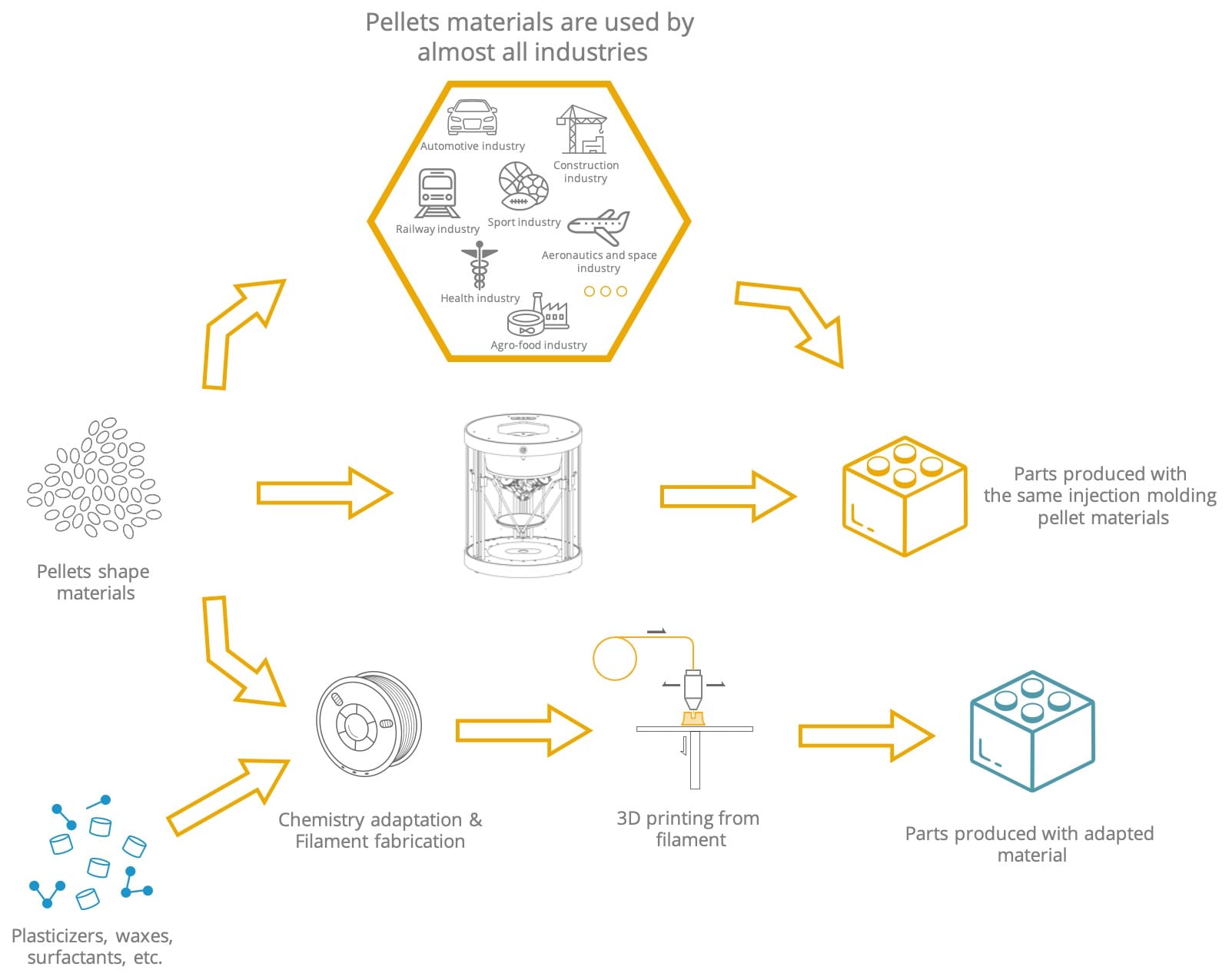 The use of pellets as a raw material provides access to the most comprehensive industrial material catalog on the market.
Making the production of parts with mechanical properties comparable to injection molding. The entire range of injection molding materials is available: standard thermoplastics, performance thermoplastics, the entire range of hardness of thermoplastic elastomers (from Shore 00 to Shore D), metal alloys and technical ceramics.

Meet us
Answering to the most demanding markets needs
Certified materials that meet the standards of demanding industries are compatible with the Pam process. Printing of materials with specific properties is now possible. Several certified materials are already validated, e.g. fire/smoke, medical grade, EMI/RFI shielding, food contact, toy safety, etc.

Meet us
Pam 3D printers range
Equipped with 2 to 4 independent and autonomous extruders, Pam 3D printers are able to combine different materials to give new properties to the parts produced. It is possible to combine flexible and rigid materials to locally functionalize the parts.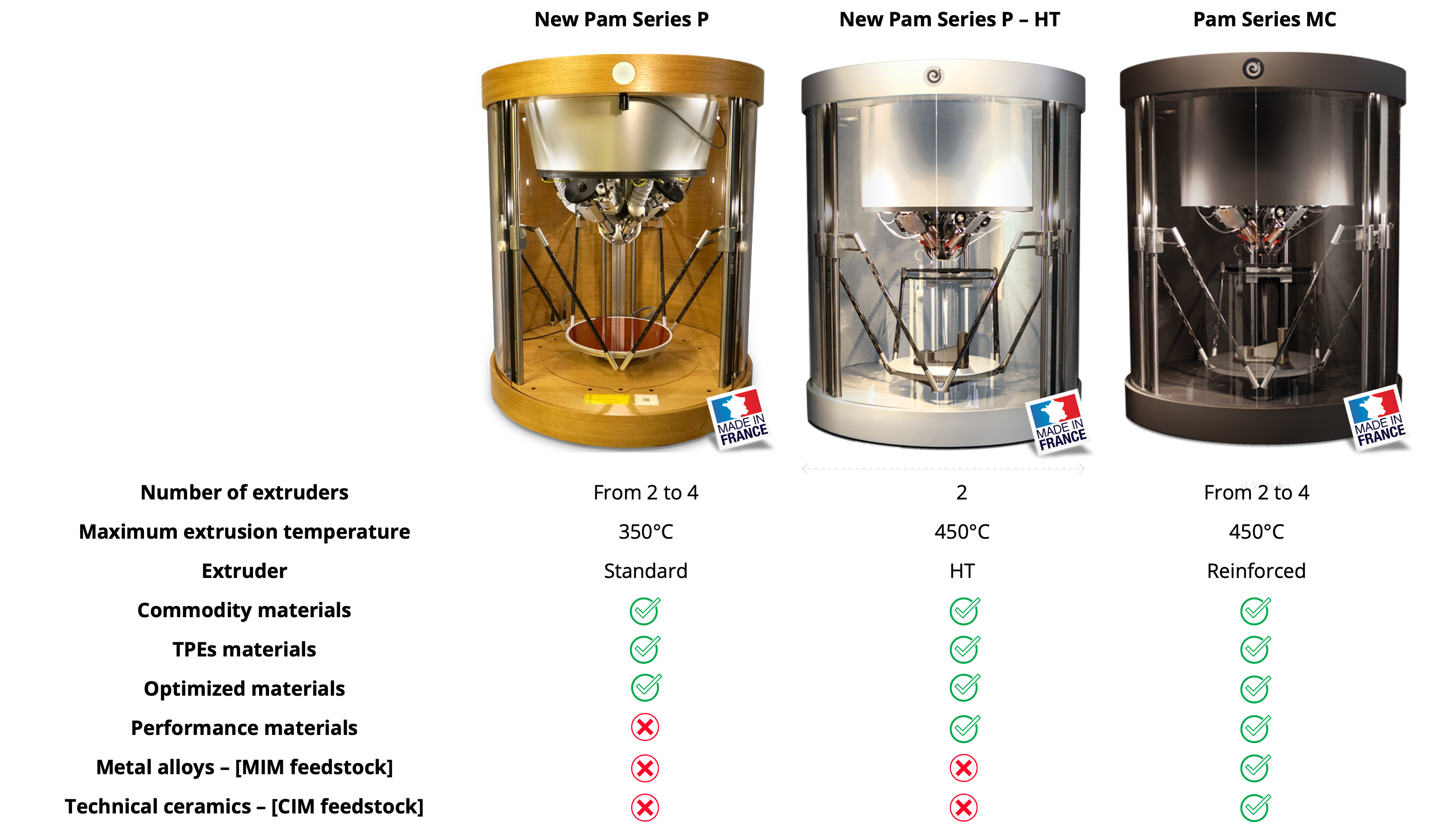 New multi-resolution parts can be created, for example, it is possible to choose on the same part to fill with a large diameter nozzle and to produce the contours with a thinner nozzle. This combination of resolutions will allow to have a very good compromise between production time and aesthetic quality of the printed parts.
Meet us
Pollen AM applications
Pollen AM has a strong multi-market expertise allowing to address the challenges of the industrial and education markets.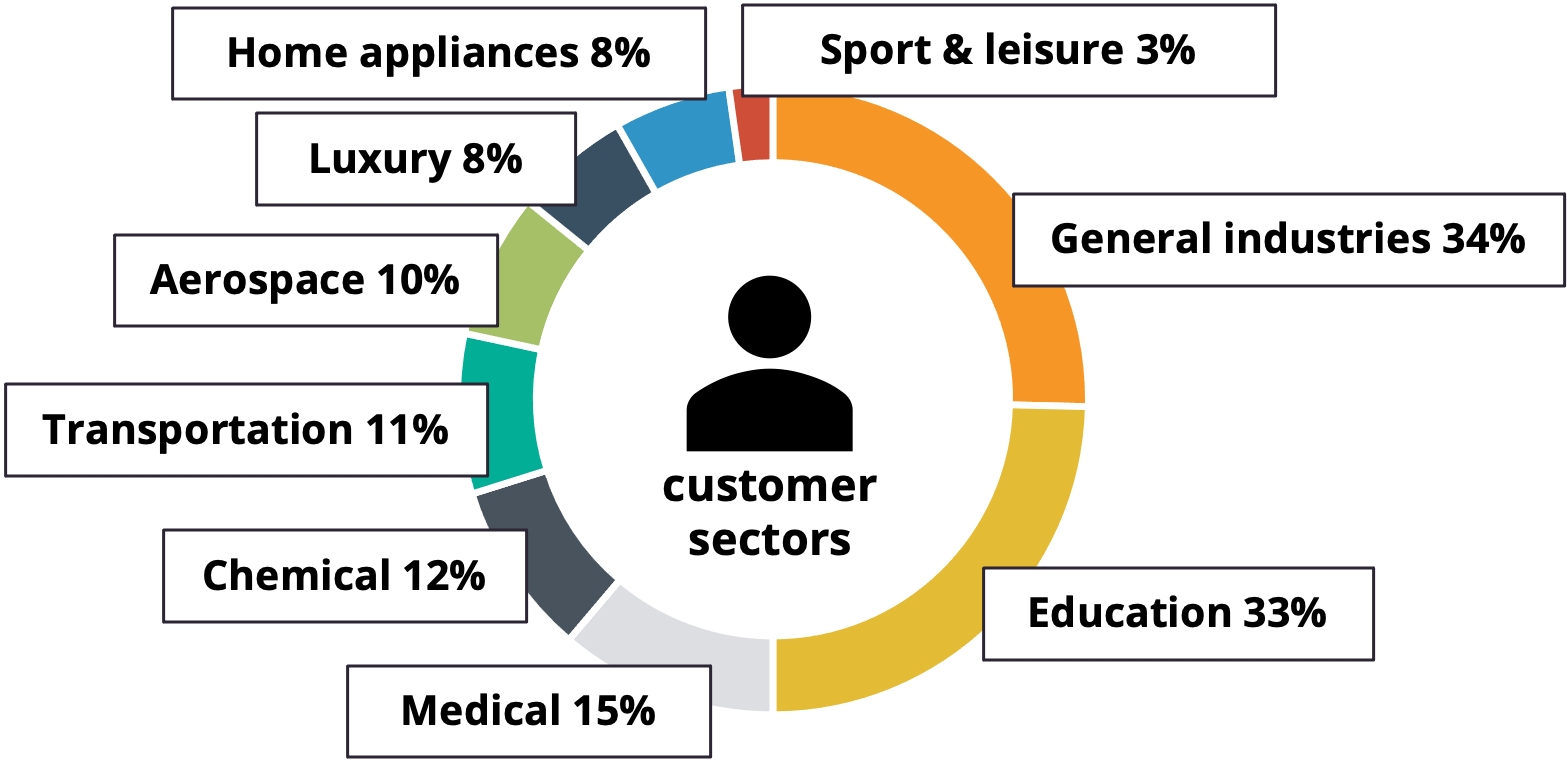 Meeting a wide range of industrial and academic needs, Pam 3D printers are used, among other things, for the production of right material prototypes, tooling, jigs and fixtures, small and medium series.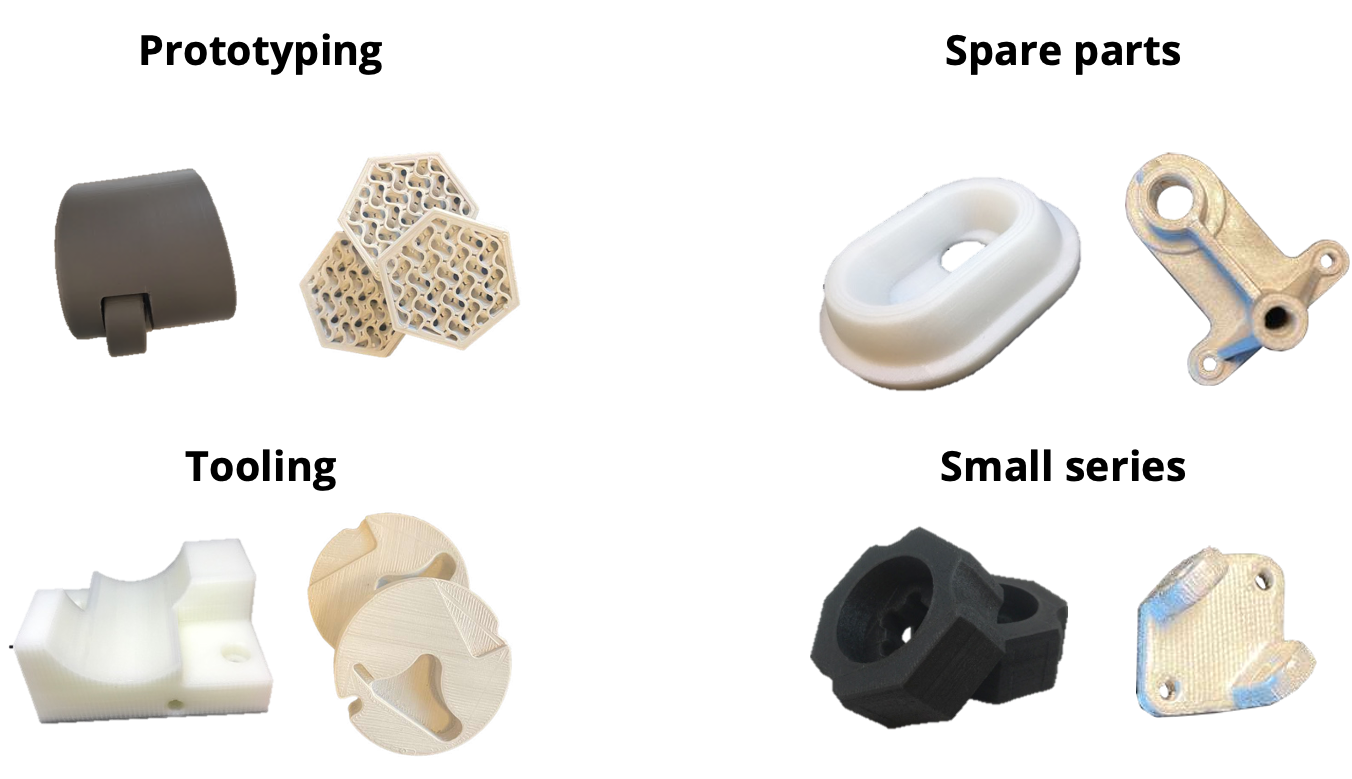 Meet us
What could be the mechanical properties of the printed parts?
We have performed several mechanical tests on a large number of materials and 3D printed parts and we are proud to confirm that the use of the right material and the right machine settings can achieve mechanical properties comparable to injection molding
.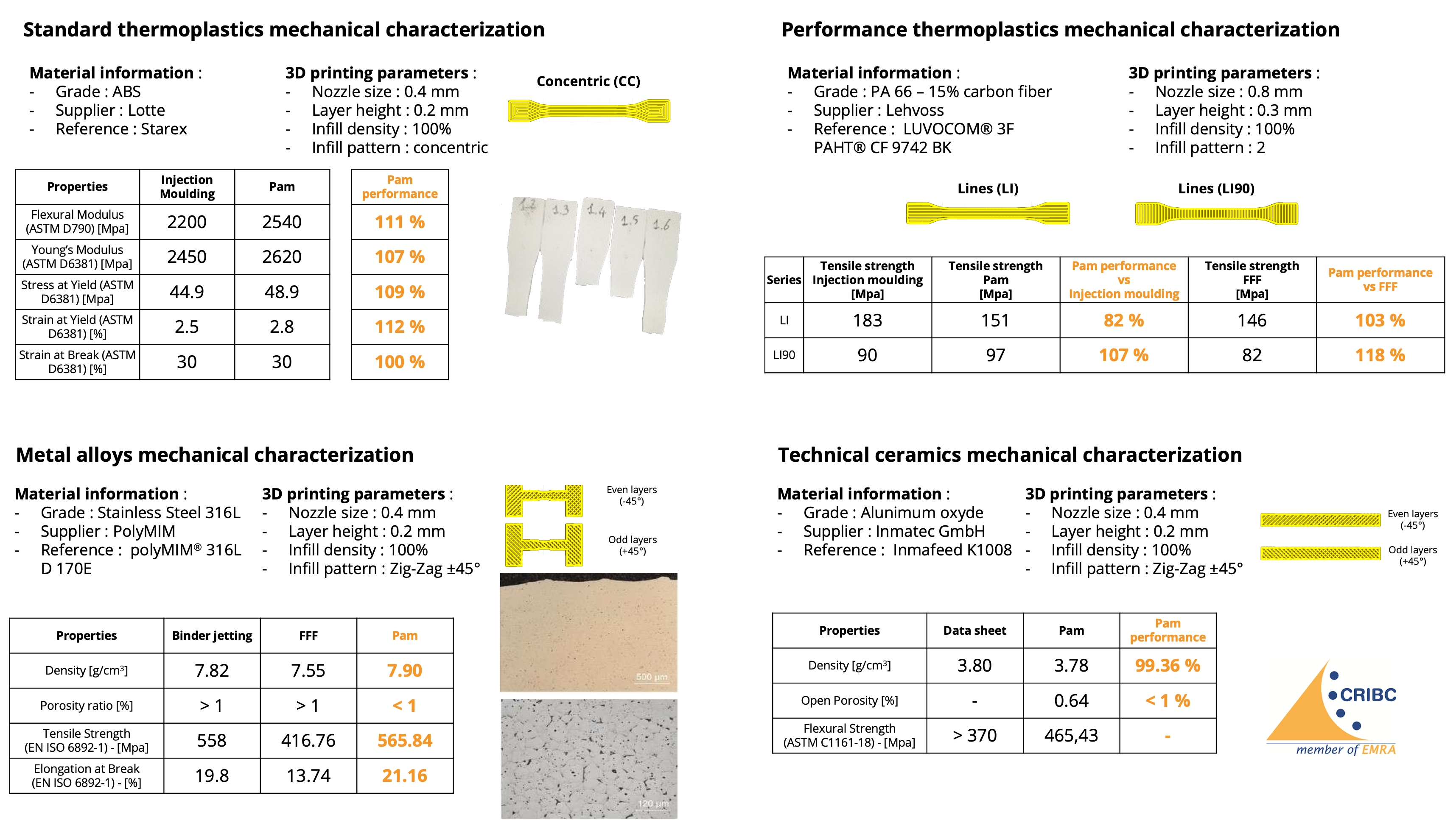 If you want to know more and discover the 3D Pam printers, do not hesitate to come and meet us on our booth.
Meet us

© 2023 Pollen AM inc. All rights Reserved.
Scroll to Top