Company history
---
From innovation to disruptive 3D printers
Pollen AM is a French company that designs and develops additive manufacturing solutions. Offering to manufacturers, design offices, laboratories, and general industries open 3D printers, both in terms of materials and machine parameters. Pam 3D printers enable its users to benefit from a production tool adaptable to project and material needs, and we are proud of it.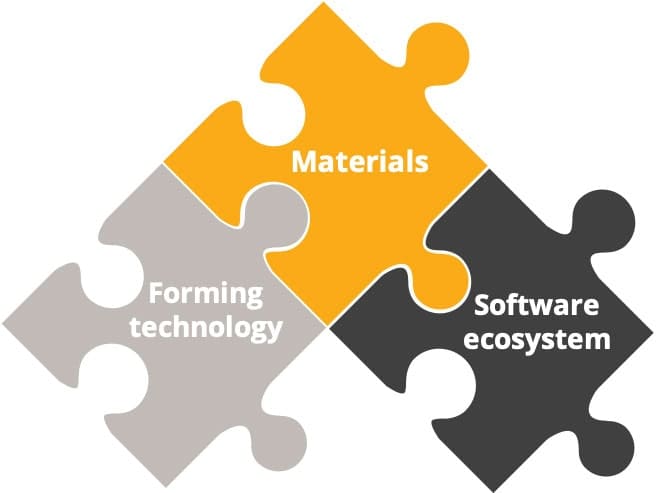 In June 2011, Cédric Michel & Victor Roux decided to join forces to create a new additive manufacturing technology opens to materials, compatible with existing materials: pellets shape materials.
The first research and development work is carried out.

After two years of R&D and a proof of concept, Pollen AM is incorporated, the first employees are hired to finalize the technology development.

It was during the first edition of Viva Technology, which took place from June 30th to July 2nd, 2016, Paris, that Pollen AM unveiled its 3D printer, called Pam, an acronym for Pellet Additive Manufacturing. More than five years of research and development were necessary to bring to life this product, fully developed in-house, from an electronic, mechanical and software point of view.

Pollen AM R&D teams initiate the first R&D work on the extrusion of MIM feedstock, an industrial material made of a mix of fine metal powder and thermoplastic binder, pelletised. After a post-treatment, the 3D printed part is 100% metallic.

After a year and a half of market feedback and continuous improvements, Pollen AM launched Pam Series P, the second version of the Pam 3D printer.

On the occasion of the Fromnext fair which took place from November 14th to 17th, 2017, Pollen AM unveils Pam Series M, the 3D printer dedicated to the indirect production of metal parts, thanks to the use of pellet MiM feedstock.

Integrating the latest mechanical, software and electronic improvements, Pollen AM is proud to announce the launch of New Pam Series P, the third version of Pam dedicated to the manufacture parts with thermoplastic elastomer and commodity materials.

Pam technology is now available in a new product range and welcomes a new 3D printer dedicated to the treatment of performance materials. Thought to be modular, New Pam Series P - HT allows the development and integration of new extruders specific to the needs of the projects of its users.

After R&D activities related to indirect ceramics 3D printing, Pam Series MC is the new 3D printer developed by Pollen AM dedicated to pellet MiM & CiM feedstocks.