Standard thermoplastics
---
The most widely used.
Standard thermoplastics are the most widely used, both in terms of volume and variety of applications. They represent the largest part of what is done in the plastics industry.
Using standard thermoplastics with the Pam Technology particularly makes sense for industrial already used to them. Existing grades can be printed as-is at their unbeatable high volume price.
Thermoplastic material classification
---
From standard to high-performance thermoplastics.
Pam 3D printers are dedicated to industrial materials with thermoplastic behavior treatment; from injection moulding thermoplastics to PIM feedstocks.
Thermoplastics are usually classified into different categories according to their polymer families and their temperature resistance.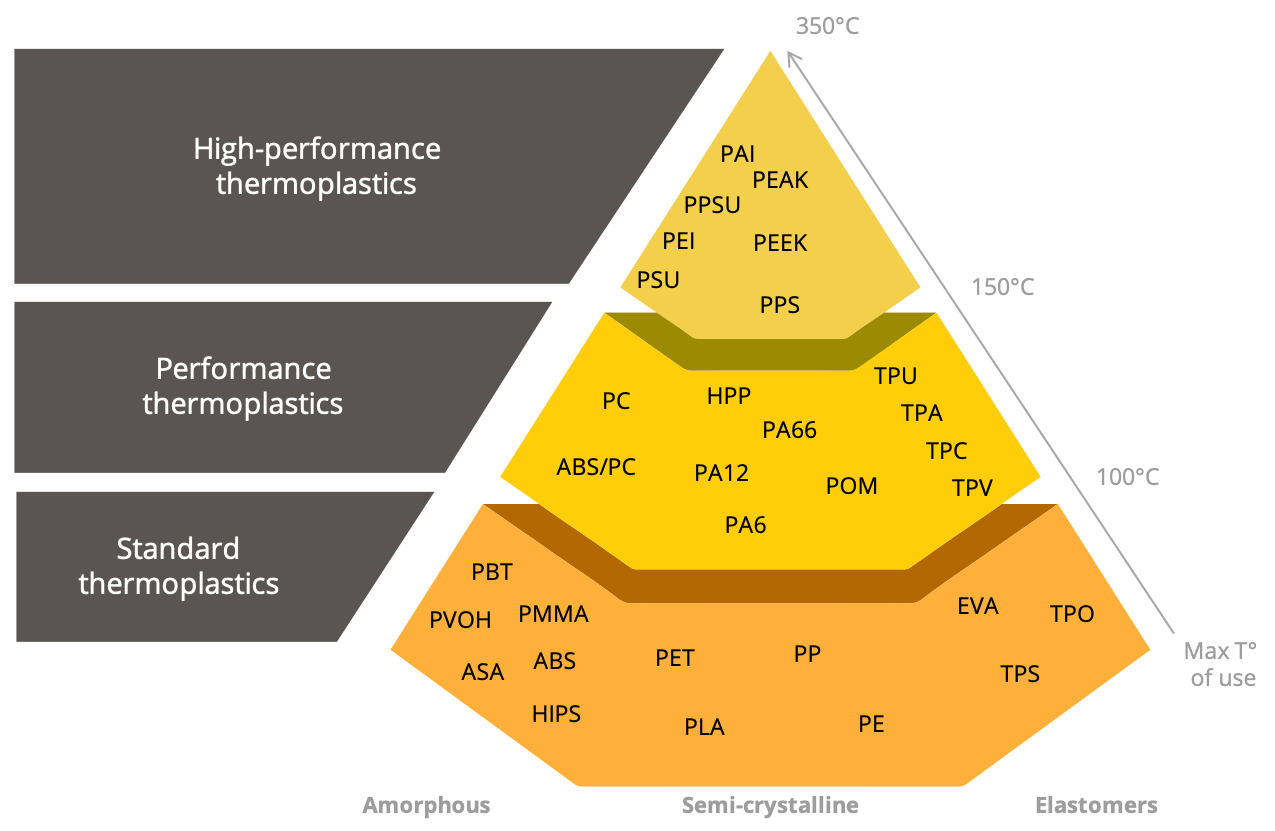 There are three polymer families: amorphous, semi-crystalline and elastomers, they are subdivided into three thermal categories : standard materials, performance materials and high-performance materials.

Thermoplastics with an amorphous structure are generally transparent and tend to be less sensitive to crack propagation (higher toughness). Due to their high-dimensional stability, they are suitable for precision parts.

Semi-crystalline thermoplastics are generally opaque, rigid and have good chemical resistance.

Thermoplastic elastomers (TPE) are a category in their own right due to their heterogeneous structure consisting of flexible and rigid domains, they are located halfway between crosslinked elastomers and thermoplastics.

As a dedicated technology inspired by micro-extrusion techniques, the Pam Technology is meant to 3D print most kinds of thermoplastic polymers.

Let's dive into the possibilities offered by PAM
---
From pellets to object, PAM technology offers the most direct process to high performances end-parts.
Metals Ceramics Commodity Elastomers Performance High Performance.